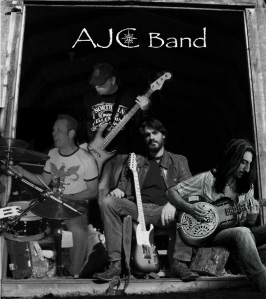 With the song craft of AJ Cifaretto at its foundation, the AJC Band is a collaboration of seasoned performers creating their own portrait of rebel folk imagery in American roots music.

Influenced by artists like Bob Dylan, Waylon Jennings, Willie Nelson, The Beatles, The Rolling Stones, Elvis Presley and Little Feat, their recent CD "Off My Horse," has proven to be a welcome contribution to the Outlaw Country genre.

This new release has been getting a fair share of attention from several radio stations across the US with a good deal of requests for the CD's title track as well as "Old Fenders N' Bartenders" and "Reckless." Their last CD "August" was released in 2010 and features songs like "Didn't See this Coming" and "Bi-Polar," both time tested favorites of the AJC audience.


---

"AJC Band's Off My Horse is truly an album every country music lover should have in his or her collection. An Austin, Texas night captured on one compact disc—it doesn't get any better." -Emma Peterson