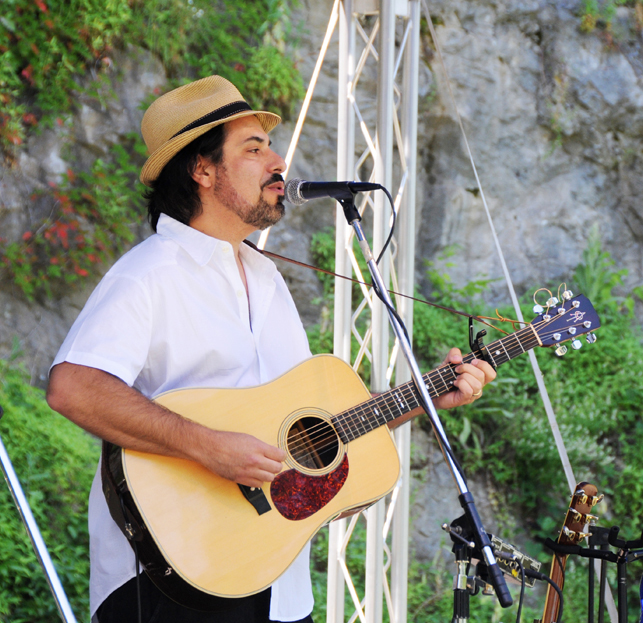 This thinking-man's minstrel, a master in using alternative tunings, is always a delight!
A native of Clinton, NJ now making his home in New Hope, PA, Gregg is a two time ASCAPlus award winner for the folk genre. He's been a finalist in the
Kerrville Folk Festival's
prestigious New Folk competition and had the opportunity to open for folk/rock stars James Taylor, America & John Gorka and many others (below). Gregg has also had the honor of playing on The
John F. Kennedy Center for the Performing Arts
' Millenium Stage.
His ease of phrasing and clear, warm baritone communicates joy, wit, love and whatever else comes to mind without pretense. His guitar playing is bold and bassy, negotiating enlightening open tunings and various worldly rhythms like it was a roll through the park. Like just a small handful of other instrument intensive singer/songwriters – Willy Porter comes to mind, and Michael Hedges – Gregg Cagno is a studied and experienced performer and entertainer. Comfortable and warm with an audience, he's as creative an interpreter of other's works as he is his own. Gregg frequently co-writes with long time friend and novelist Christian Bauman.

In addition to performing, Gregg taught songwriting and guitar workshops for the NJ State Teen Arts Festival and Young Composers festival for the past 10 years.
Gregg's song "In Her Own Eyes" (co-written with Robert Meitus) was placed in the Smithsonian Folkways Recordings archives with the FAST FOLK catalogue. The title track of his 1st CD "Backroad Driver" was featured on NPR's 'Car Talk'. His tune "Just the 3 of Us" won 'best mellow' at the 2002 South Florida Folk Festival. Other songwriter awards include: 2000 Falcon Ridge Folk Festival – Emerging Artist | 2000 Rocky Mountain Folks Festival – Songwriter Showcase Honorable Mention | 2002 Susquehanna Music & Arts Festival – Songwriting Finalist | Great American Song Contest – Honorable Mention for "Any Kind of Love" written with Linda Sharar.