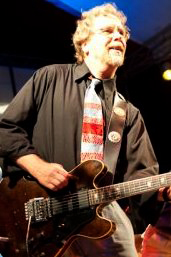 Buck Dilly, longtime member of the Blue Sparks From Hell, and his new band, Live Bait, will make their debut at the Groove in the Grove. Best known for 30 years of sonic, sizzling guitar virtuosity with Blue Sparks from Hell, Dilly has lent his chameleon-like versatility to Kings in Disguise, Chuck Berry, Rick Danko, Railroad Earth, Peter Karp and others. Equally adept at blues, country, rock 'n' roll and beyond, he has performed and recorded with a variety of major label and independent artists and is relishing his turn at the helm with Live Bait.

Joining Dilly on stage is Charles Terrat, on bass. Formerly with Blue Sparks from Hell and The Plumbers and the original bass player for off-Broadway's Tony n' Tina's Wedding, Terrat has graced studios and stages with his solid and toneful mastery of the bass guitar and superior wit for over 35 years. Jimmy Santoro of Somerville, formerly of New Frontier and The Campbells, contributes sublime technical wizardry on guitar, complementing Dilly's playing with a finesse that could only come from decades of looking over each other's shoulders. Dave Moore, who played kick-butt drums with Buck in Kings in Disguise and who has shared his prowess with the likes of George Benson, Rick Danko, Ronny Jordan and Melvin Davis, possesses skills and sensitivity matched only by his spiritual and creative enthusiasm. Carolyn Magee, a relative newcomer, supplies much needed grounding for Buck and the boys, both musically with harmonies and production input and mentally with her keen sense of irony.
Live Bait showcases Dilly's own songs as well as compositions by songwriters he has worked with in the past and an electro-eclectic mix of cover tunes from several outstanding bands, always with a uniquely Buck-inspired Dill-irium.