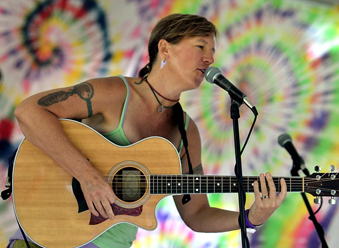 Kathy Moser is a songwriter, performer, teacher and social artist, working to bring positive change to the world through music. She performs and tours nationally. Kathy has appeared at well known folk venues such as Club Passim and Godfrey Daniels, as well as colleges, churches, coffeehouses, prisons, and benefits too numerous to mention!

Known for her poetic lyrics, driving guitar style and goofy stage presence, her songs confront a variety of topics ranging from world peace to lawn mowers, dysfunctional families to shopping malls, drug addiction to the wisdom of trading in your car for a horse. Audiences leave her shows entertained and uplifted, thoughtful and motivated.

Working with young people is one of Kathy's passions and she gives workshops, artist residencies and concerts in a variety of educational and institutional settings. Her work encourages young people to find a place to make a positive contribution to their communities.

Her new album "Some 1 Like U" features 11 original tracks and covers of Neil Young, Joni Mitchell, Peter Meyer and Death Cab for Cutie.