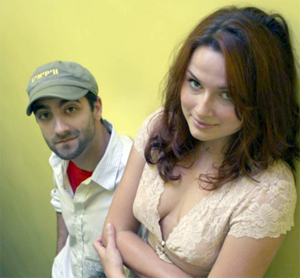 Stephanie White is what you would call an "old soul". A voice so powerful yet seductively honest that it grabs your heart, not just your ear. But she doesn't wear her heart on her sleeve. You'll find it on her foot, a musical line tattooed just above the inside cut of her stiletto. She'll tell you it reads, "And life is like a song", words from the song "At Last" made popular by Etta James but more importantly, the song her grandmother would frequently request her to sing. It's the music records played in her house that influence Stephanie's style today.

Whether she's singing over a blaring horn section or a soft piano, her voice takes control in "This Is Why We Can't Have Nice Things". Produced by Stephanie's business partner and drummer, Robbie LaFalce, Jr., the album is the sophomore release from her band, the Philth Harmonic. It features songs written by both, ranging from somber jazz to energized funk/rock but with consistent emotional content throughout.
Stephanie and Robbie frequently perform as an acoustic duo, as they will for Groove, where Robbie takes a break from the drums to play guitar.

If Aretha Franklin and Dave Matthews only had the opportunity to work together...