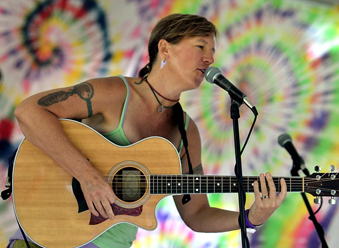 Kathy Moser has been in love with music and Planet Earth as long as she can remember. Her introduction to folk happened at Girl Scout camp, which led her to the coffeehouse scene. Distressed by her inability to play guitar while sitting on that ubiquitous four-legged stool found on every folk stage, she wandered over for a record or two into something looking a little more like rock. But realizing she missed her tribe, she wandered back to her acoustic roots with a guitar strap and never looked back.

An award-winning songwriter, engaging performer and passionate environmentalist, Kathy is dedicated to bringing positive change to the world through music both on and off stage.

On Earth Day of 2014 she will be released her 4th album Some 1 Like U to radio nationally. Produced by Tom Prasada-Rao, the album features performances by Andy Goessling (Railroad Earth), Buck Dilly and Cary Cooper. Some 1 Like U features 8 original tracks and covers of songs by Neil Young, Joni Mitchell, Peter Meyer and Death Cab for Cutie.